6PPD(4020)
---
Chemical Name: N-(1,3-dimethylbutyl)-N'-phenyl-p-phenylenediamine
Molecular Formula :C18H24N2
Molecular structure: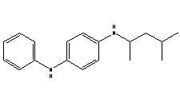 Molecular Weight: 268.40
CAS NO.:793-24-8
Executive standard: HG/T 3644-1999
Specification:

Item

Index

Acceptable end-product

Appearance

Grayish brown to brown granules

Soften Point,oC ≥

45.0

Loss on drying,% ≤

0.50

Ash,% ≤

0.15

Assay(GC)% ≥

96.0

Solidifying Point,oC ≥

45.5
Properties: Dark brown to dark violet pastilles relative density of 0.986-1.00. Soluble benzene, acetone, ethyl acetate, toluene dichloromethane and slightly soluble in ether, do not dissolve in water. Provides powerful and antioxidant properties with excellent high temperature and flex resistance to rubber compounds.

Applications:Include the use in pneumatic,solidtires,beles,hoses,cables,bushings,
automotive mounts and general mechanical products that are exposed to continuous and intermittent dynamic operating conditionsand and require protection from coronations.

Packing: Packed in 20kg per bags.
Properties: The product should be stored in the dry and cooling place with good ventilation. The product should be avoid hot sunshine.
---
Next product: IPPD(4010NA)